MOTHER'S DAY RESERVATIONS END SOON
Mother's day reservations 
end  in
:
00

Days

00

Hours

00

Minutes

00

Seconds
Mother's day reservation have ended
FRESHLY BAKED MACARONS DELIVERED NATIONWIDE
Forget the flowers and chocolate and give mom what she really wants... macarons!!!
Celebrate her with a gift she'll love, a freshly baked "bouquet" of fine, delicate and delicious macarons this Mothers Day.
THERE IS STILL TIME TO GET MOM THE PERFECT GIFT
HOW DO RESERVATIONS WORK?
ORDER ANYTIME
Order your gift as early as you'd like and leave the rest to us!
You may select the macarons by the piece or any variety pack you would like Mom to receive then add it to the cart.
At checkout, select "Mother's day reservation" as your shipping method and we will hold the order to prepare and ship the week just before Mothers Day.
It's that simple!
The macarons were packaged very well!
I was concerned that such a fragile pastry would get smashed in transit but they all arrived in perfect condition.
The flavors were also FANTASTIC - even the  ones that I wouldn't think that I would pick out if I was at a bakery in person.
That makes me interested to try more flavors because I can't see how I'd dislike any of the ones you make.
I did eat all 21 macaron's I ordered in a span of 2 days so it might be sooner than later before I order some more. Thank you!
Fast shipping! Great customer service! They expedited their shipping process for me to have these delivered before my girlfriend left out of town!
My girlfriend loved them and they were received undamaged and above and beyond my expectations!
They also hold up really well we ate the last one a week after purchase and it was still so yummy!
I highly recommend the rose flavor it's so authentic!
Ariel-
New york -NEW YORK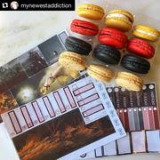 Mother's day reservations  ends  in:
00

Days

00

Hours

00

Minutes

00

Seconds


Make Moms home extra cozy by having sweets in a box waiting for her in the fridge. Order a Classic Box, a fun pack that ships a dozen macarons to Mom's house.
With a shelf-life of one month in the freezer and one week in the fridge, she'll be able to save these extravagant treats for her special day or a rainy day.
Make her feel extra spoiled on the holiday dedicated just for her, she deserves it.
FREE SHIPPING AVAILABLE
On all orders over $69!
MACARONS OF THE MONTH CLUB
Save and get new flavors every month!
HANDMADE WITH LOVE
In the USA!